Every aspect of design is of equal importance at Kennebec – and that especially goes for your dock and boathouse. After all, it's often a lake house's front door.
As far as life on Lake Martin is concerned, you'll likely be spending as much time waterside on the dock or in your boathouse as you do in your actual home. Your guests pull up there, you entertain there, you relax there and you might even tie your boat up there every once-in-awhile.
At Kennebec, design is carefully curated to compliment the natural beauty of the land around the homes. The Kennebec style calls for every detail – from kitchens and living rooms to porches and patios – to be well thought out. This includes your waterside structures. Your boathouse should be a natural extension of your home and should reflect the same personality and character of your home when it comes to design. Luckily, you can cover your dock at Kennebec. It get's hot on the dock, plus secure covered storage right at water's edge is a real benefit. Here are two in the water now, but there are several more on the drawing boards for houses breaking ground soon.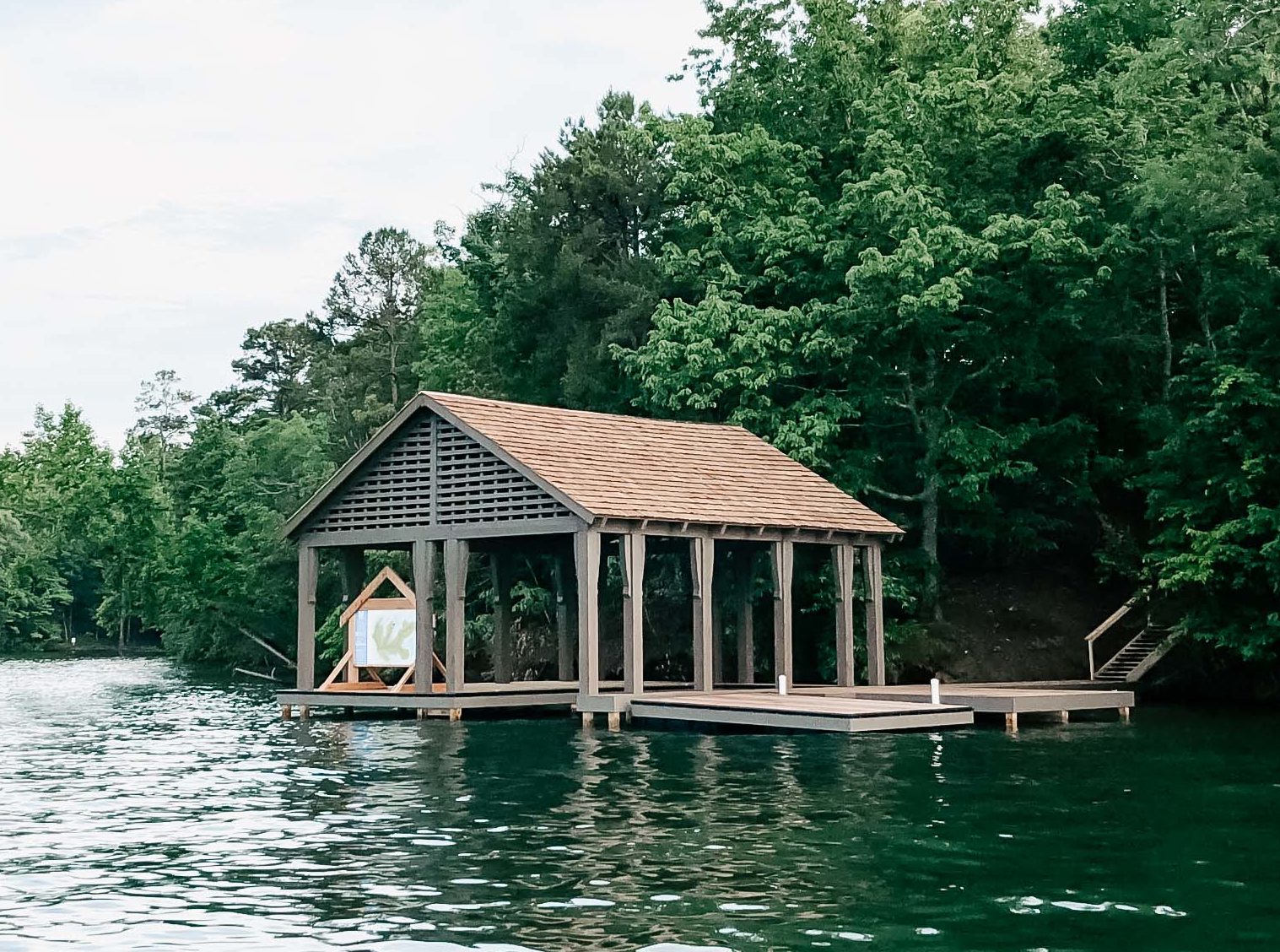 A Few Benefits of Covered Boathouses:
Cover: The addition of a roof on your average dock provides additional protection to your equipment and accessories when they are not in use. It also allows for shade during those long afternoon hours spent waterside.
Tailor Made: The benefits of a custom designed dock and boathouse includes the opportunity to design yours to fit the specific dimensions (within certain limits) you require and the option to add accessibility features such as ramps, ladders or built-in benches and storage. In addition, it will be designed to complement the style of  your home.
Entertainment Space: Did you know your boathouse can be used for much more than simply storing your lake equipment? Many are transformed into entertainment space. It's the perfect place to lounge and enjoy food + drinks on the lake.
Secure Storage: Your boathouse can be customized to your needs even when it comes to adding additional security features such as locks, gates and other features that keep your investments secure.